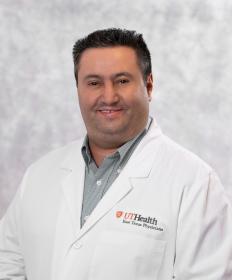 Physician Group:
UT Health East Texas Physicians
Salah N. Almohammed, MD, is a board-certified pediatrician at UT Health East Texas Physicians in Carthage who was inspired by his family to pursue a medical career. "My older brother is a physician, and I used to see him helping people. That's how I knew I wanted to be in medicine."
Dr. Almohammed is dedicated to providing the best care possible, while educating children and their parents during every step of the process. "I love kids, and I've got a lot of drive to do the best I can for them, because every child needs to be prepared for the future."
Education:
Pediatric Residency: John H. Stroger Jr. Hospital of Cook County, Chicago
Post-Doctoral Fellowship: Department of Surgery, Baylor College of Medicine, Houston
Pediatric and Internal Medicine Internship: Princess Basma and Princess Rahma Hospitals, Ministry of Health, Irbid, Jordan
Doctor of Medicine: Jordan University of Science and Technology, Irbid, Jordan
Bachelor of Science: Jordan University of Science and Technology, Irbid, Jordan
American Board of Pediatrics, Board Certification
American Medical Association, Physician Recognition Award
American Academy of Pediatrics, Member